Kastanienhof: WWOOF-farmers meeting in the middle of germany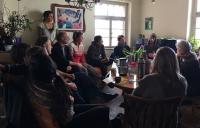 WWOOF germany meeting on Kastanienhof 12.3.2017 more >>
WWOOF germany meeting on Kastanienhof 12.3.2017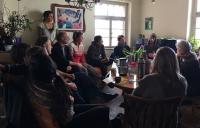 Dear Farmers * inside in the middle of Germany,
We have already announced that there is a WWOOF court meeting also in
And we are proud of you
Sunday, March 12, to the Kastanienhof southeast of Göttingen
To invite This is the WWOOF farm with the number 239:
Check Rates and Availability for Kastanienhof, Dorfstr. 52, 37318 Marth
We will provide you with up to date information about what I do
Already announced, is the provisional agenda. Therefore,
Because we want to pick up your ideas and your input from the beginning.
A program point is still left completely open. Log in, though
You have a topic to which you want to make a small lecture,
Or that you may put into discussion, if you have a small one
Workshop or presentation!
Here is the rough sequence:
09:00 Arriving, coffee and tea
10: 00-10: 30 o'clock Hofrunde: Götz tells about the origins and
Development of the chestnut farm
10: 30-11: 30 h Brief introduction to the meeting and the round table
Of all participants * inside
11: 30-13.00 Open Space: WWOOF supports the courtyards, the courtyards support WWOOF
13: 00-14: 00 Lunch
14: 00-15: 30 hrs Common walk
15: 30-16: 30 Open Space: Possible participation in existing
Projects, support programs, initiatives in the region
Eichsfeld-Göttingen-Kassel and the surrounding area (eg Ecological Network
Agriculture Eichsfeld)
16: 30-17: 00 hrs. Break
17: 00-18: 30 h Open program point, designed by the participants
Hearers inside
18.30-19: 30 am Joint graduation / dinner
Further information follows. Please register by mail or telephone
(See below).
Many warm regards to you from Jan of the WWOOF team as well as Götz and
Kerstin from the Kastanienhof
WWOOF-Germany
Mill 32
99752 Small building
Tel: 036338 58 93 07
Jan@wwoof.de